2nd Night Home
04 Jan 2000
05 Jan 2000 3:45 am CET Manila feature request for webmasters outside the US who are new parents: time zone support for websites. I want to flip my home page now, but I can't because for the server in California, it's still yesterday!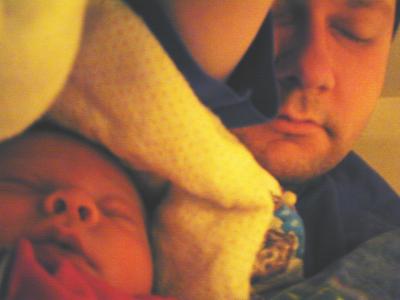 Christopher and I were sleeping at 4 am, and Mama was not.
We're preparing birth announcements with picture for the German relatives, since it's the kind of thing that's expected over here. We couldn't think of anything appropriately funny (my brother-in-law announced his first son with "The center of the universe weighs xxx grams, is xxx cm long, and is in bad mood at the moment"; we can't compete with that.) We took the plageristic route, stealing two quotes from a German baby website and combined them into one. Translation: "Already in our hearts, now also in our arms. On 27 December at 3:39 am the happiness in our lives became complete." True, but sappy!