Christopher Ryan Hanson
05 Jan 2000
For my dad, the highway engineer, here's a link to a picture at the cluetrain website. (Mama says that the picture is too gross to include here.)
We're trying to find a good picture to include with our birth announcements. I thought this one would be OK, but after printing it out, I see it looks like he's been playing with yellow hi-liters with both hands!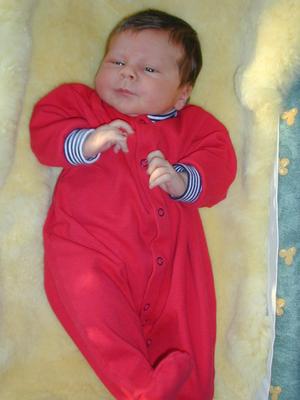 A nice thing about having babies in Germany is that a midwife makes a few house calls after mother and child are at home to make sure everything is going OK. Our midwife Jenny was here for the second time this afternoon, and it seems that all three us of are doing alright.
Of course, after complaining at 3am that I couldn't start a new home page for today, I went back to bed and slept until 9:30, when Mama finally woke the two of us up. Just goes to show, there's no problem that a little sleep can't solve!