A World Full of Colors
25 Jan 2000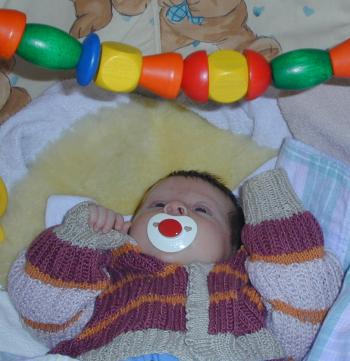 We're starting to notice advances in Christopher's development. He now seems able to focus on the colored blocks we hung over his cradle. He's gaining control of his arms and hands, although they aren't quite coordinated yet. And he's started smiling (really smiling, not just the instinctive grin when he's just finished eating).
Grandma Ruth is coming again tomorrow for a couple days. Grandma Shirley and Grandpa Marlyn have their plane tickets for the end of March. It looks like we'll have the baptism on 2 April in Jesteburg.
We've gotten a lot of compliments on Christopher's sweater. It was knitted by Aunt Kirsten for her son Jakob, and we have it on loan.