Saturday: He's baaaack!
04 Mar 2000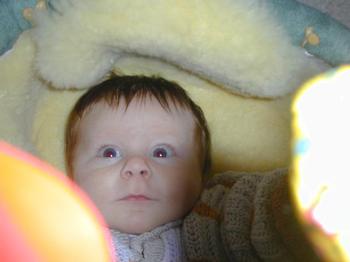 Fortune: Hard Times: A Letter from 2035 (via slashdot)
CNNSI Hamburg held to 4-4 draw (they blew1 lead in Wolfsburg), but Bayern falls in Matthäus' Bundesliga goodbye. Lothar Matthäus is leaving Munich to play in the US for the MetroStars. He enjoys the sound of his own voice. Fans in New York should be glad that he can't speak English yet.
Via curmudgeon: "Are Europeans more mature than Americans? In an exchange between Kate Adams ("brdbrain") and Andrea Frick ("andrea"), Kate mentioned that Europeans are more mature, and Andrea thought that was strange."
My first thought was that Europeans are forced to make more choices younger than Americans do. Mama, like all Germans, started to specialize her schooling already in the 5th or 6th grade. I didn't start to specialize until my 3rd year of college. Of course, both our careers today are nothing like we could have imagined back then!
The curmudgeon said: " It is funny, but I, too, assume Europeans are more mature. Maybe it's because European kids are allowed more freedom as they grow up. Schools in the US spend a lot of effort on "controlling" students." Funny, I said forced to choose, he said free to choose. Same difference?
Actually, I find the similarities between Germans and Americans much more interesting than the differences!
As for our half-American, half-European son, he's just 10 weeks old, but he seems as mature as at least 12 weeks!