Easter Sunday
23 Apr 2000
My brother, who doesn't even own a computer, sent me this dubious electronic Easter card.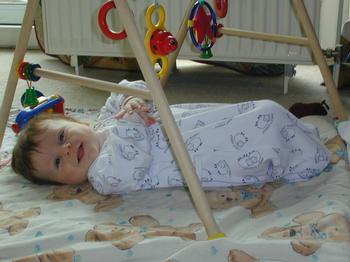 A smiley picture from this morning. He must be smiling because of the link from Scripting News
Lots of new pictures at PhotoPoint: 1 2 3 4, count 'em, 4 albums!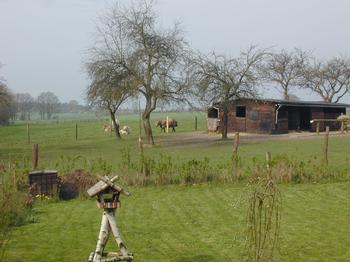 The cows are back! Our neighbor Achim brought out his Charolais cattle yesterday. Their first stop is the pasture past the horse shed behind our house. They'll stay about a week before they move on.
The Easter Bonfire, on the night before Easter, is the big event of the year in Lüllau. It's organized by the volunteer fire department. They gather the wood, set the fire and sell bratwurst, beer and schnaps. I'd say 300 people were there last night.
(Most of the little towns in this area have bonfires for Easter, but it doesn't seem to be a universal German tradition. Mama had never heard of it when she was growing up.)
Christopher started expressing displeasure at 9pm, so we went home earlier than we had planned.