Cultured Pearls
05 Jun 2000
Christopher has a fever this evening over 38.7 C/101.6 F. We noticed that he was awfully quiet.
First day at the new office today. The technical part of moving went well. The part the moving company was hired to do did not. Our PCs were set up and ready to go, but our keyboards and mice were in our workplace cartons which were not delivered even by the end of the day.
I was able to find my missing Notes server by the end of the afternoon. It was up and running, but plugged into the wrong hub.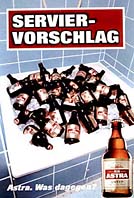 We are across the street from the Operettenhaus, where 'Cats' is performed. I can see the 'Cats' eyes from my desk, as well as the Bavaria-St. Pauli brewery (local cult brand Astra - Was dagegen?), which BTW has nothing to do with St. Pauli Girl beer.
PapaScott (the website) is 6 months old today. Like Al said yesterday: "When I started this, I had no focus. I still don't. I come here everyday, and do whatever the heck I feel like that day." I still don't know what I want to do with this website.
Music
Cultured Pearls are a soul band from Hannover who have had a couple of radio hits, but will probably never break out of Germany (although the albums "Liquified Days" and "Space Age Honeymoon" can be found in the States as imports (apologies for the Amazon links; they aren't listed at BN). Their music is pretty sweet nonetheless.