Wet Weekend
24 Jun 2000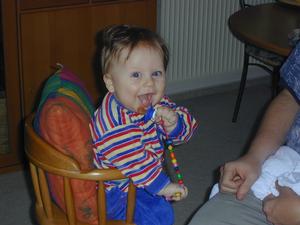 Time to catch up
Das Spiel ist aus! In Euro 2000, Germany lost their final group game to Portugal 3-0 on Tuesday. They finished last in the group with no wins, and have gone home. The last time Germany finished a major tournement without a win was in 1938. As would be expected in a country where arrogance is a national attribute, the media is treating this as a major disaster.
Shopping trip Highlight of the day today was a trip to Lüneburg to the Baby One shop to look for a crib and a baby phone. We would have bought the crib, they don't deliver, and to fit the crib in the Fiat one of us would have had to stay in Lüneburg.
It's Official We'll be flying to the States for three weeks this fall to visit friends and family. We'll be in Arizona Sep 27 to Oct 3, then in Minnesota until Oct 17.