Back in black
05 Dec 2000
PapaScott (the website) is one year old today. Thanks to "Userland" for providing at no cost the webspace and the software that makes it not only possible, but easy.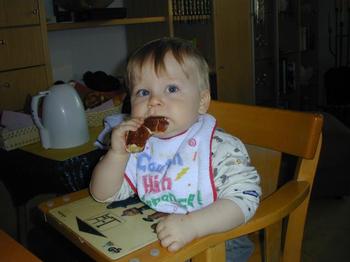 Our hosts Jörg and Susanne in Munich treated Christopher to a Bavarian breakfast: a fresh pretzel with butter and honey. It was amazing how all three could stick in his hair. And his face. And his clothes.
Jörg insisted that Christopher roll up his sleeves for the true Bavarian look. At least he didn't insist on Lederhosen!