Catch as Catch Can
15 Jan 2001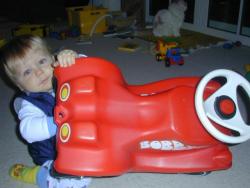 All-Star Bobby Car Wrestling! See all the highlights at PhotoPoint!
Hey, Mama sold the Fiat! The price was a little less than she wanted, but I've got the big brown bills laying next to me as I type this.
Mama took 'store tours' both Saturday and Sunday, so I spent the weekend (as well as my usual work-at-home Monday) with Christopher. He's been suffering from what can be most delicately referred to as 'loose stool'. Let's just say I've been eaching into it up to my elbows. We've been doing 2 to 3 'complete changes' a day, and just now we took an impromptu bath rather than deal with the situation normally. Desperate times call for desperate measures.
Needless to say, the work I'm supposedly doing at home today has lain mostly untouched.
PS: Thanks, "andrea" for the good wishes. Christopher isn't really sick. He may be just teething. Our 'Kinderarzt" assures us that despite our frequent visits, Christopher is very healthy and isn't sick any more often than other kids his age.