I just had to get out of bed
09 Apr 2001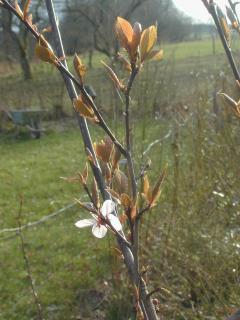 Our first blossom in the garden. Spring is finally here. Thanks to Daylight Savings Time I can still see what's going on in the garden when I get home!
Easter week. The spring German holidays coming up means a lot of 4-day work weeks; Good Friday, Easter Monday, May Day, Ascension, Pentecost.
Mama just asked me where the past few page titles come from. Overload, from the Sugababes, and I'm noteven halfway through the song yet.