I'm on overload in my head
13 Apr 2001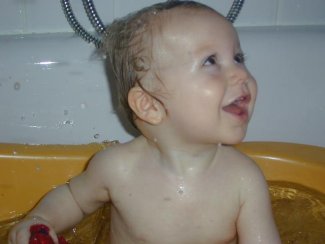 Since today is a holiday we moved up Christopher's weekly bathday. He didn't mind and splashed at his best.
Garret, my windows telnet client of choice is TeraTerm Pro. It's clean, free, and has an SSH extension.
6:45 am on a holiday, and Christopher is already awake. I thought we wore him yesterday so we could sleep in.
From the Dead.Com department, the Abendblatt had an article on Internet firms in Hamburg with big losses on the Neuer Markt. My employer made the top of the list, meaning the 92% decline in our stock since 03/2000 was the 2nd best of the 10 firms mentioned (i.e. the rest had bigger declines). And the past week our stock has actually doubled (from 2.20 to 4.90). My first set of options due next month are at 25.50, so we still have a ways to go.