In The Bath
20 May 2001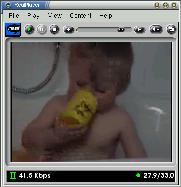 In the bath: a pitiful first attempt at uploading home video for the web (30 seconds for Real Player, 163 KB). It's going to take a while for me to learn digital video. Maybe I need a 'Dummies' book. Later: It worked! Christopher's grandparents were able to view the video.
Helping out family in Minnesota
My mother writes (I've removed the names): "Dad has been very busy this past week. His sister-in-law's brother had a heart attack about a month ago so was unable to plant his crops. He has about a 1000 acres. Dad, two of his brothers along with a couple of neighbors and a son got going on Wed. and Thurs. and it sounded like they would finish up Friday. I think they meant all of it. Then after a few weeks, the neighbor will spray for weeds and then they are set till harvest."
And finally in soccer
Hamburg's inner-city team FC St. Pauli has promoted to the Bundesliga 1st league for the 4th in 12 years (which means they've been demoted to the 2nd league 3 times in that same time period). I imagine that in a year or two they'll be back in the 2nd league, but it will be fun to have them in the big league for a while, if nothing else than to watch overpaid teams like Bayern Munich play in their dinky neighborhood stadium.