Letdown
28 May 2001
We made it back from Amsterdam, and we're still tired. Christopher slept 3 hours more than usual today, and he's not caught up with his sleep either. We're all kind of depressed today, the weather is rainy, and work is, well, work.
I'll write up my notes under the story Amsterdam until they are ready to post, so you can read them in progress (that way I have no pressure to get them done).
Van Gogh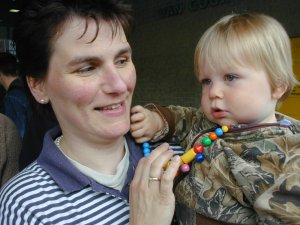 Here's Mama and Christopher in line at the Van Gogh Museum on Sunday. Christopher can hardly wait for the dose of culture that he's about to be fed. His favorite painting was The Potato Eaters, for obvious reasons (he likes anything to do with eating). Mama and I both liked The Langlois Bridge, but it wasn't for sale. Not even as a print.