It's All True
30 May 2001
Last Flight Home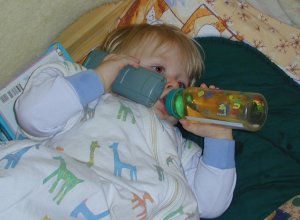 Thanks to an overly long meeting in Munich, Mama missed the last flight back to Hamburg. She has to fly to Hannover and rent a car, and she could only say good night to Christopher on the phone.
Culinary highlights of Amsterdam
Like Dave, we had to have herring Broodjes. They were good, and Christopher enjoyed his share, but we didn't think they much different from north German Fischbrotchen.
On Sunday we three shared a large order of Poffertjes (mini pancakes) with strawberries and cream for lunch. We sat outside at a colorful stand.

And, of course, the beer. Thankfully, the north German '7 minute Pils' never caught on in Holland, and your Heineken (short but fresh) is brought to you within seconds after it's ordered.