Film at Eleven
04 Jun 2001
Yes, Grandma and Grandpa, we haven't been very good about posting pictures the past couple of weeks. We've caught up now. At PhotoPoint we've filled up May and took pictures today at an historic mill and of Christopher playing in the rain for June. And just yesterday I figured out how to make a Video CD, and we'll be sending you one tomorrow.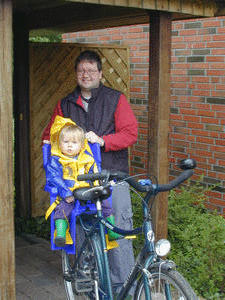 Following Jörg`s tip that today was German Mill Day, we biked down to the mill at Holm, about a 15 minute trip. It was our first bike trip with Christopher.
The camera is on a slow flash setting, so the moving gears are blurred. Our batteries ran out before I could get a picture outside.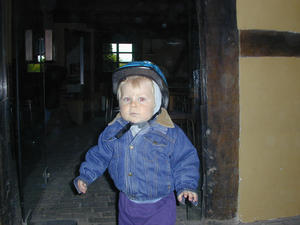 In the afternoon it rained again. Christopher likes pushing things, and we finally got him something of his own to push, a doll buggy. That poor bear has to go a lot to keep up with Christopher.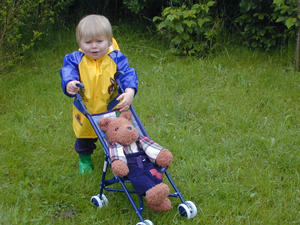 In the evening we went out to our old favorite restaurant, the Treibhaus. Christopher was rowdy and rambunctious, just as you'd expect after an 3-day weekend of rain. Good thing that the Treibhaus staff knows us and likes us.