Supermaus
11 Jun 2001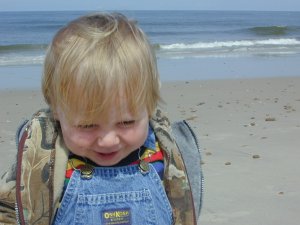 We're back. Christopher's first day at the beach. He fell face first into the North Sea and he loved it. For a couple without children it would have been a relaxed romantic weekend. As for us, well, Christopher was awake at 5am Sunday morning. Enough said. At least the weather was halfway decent, cool but mostly sunny.
Mama, Director-Executive-Supermaus by day, Mama-Supermaus on early mornings, evenings and weekends, has her birthday today. She's celebrating in the way she celebrates every Monday, by being at the office at 7 am to prepare for a day full of weekly meetings. Happy birthday anyway!
Dave is waiting for an e-mail from the afterworld. Hey, you think ISPs in this world are bad. Try to find a good connection in purgatory... all you can find there is AOL and MSN!
Seriously, coverage in Germany of the McVeigh execution has been rather reserved. I was sure the German media would find good cause to revile Bush as the new Federal Executioner. However, the difference between a state and a federal case is perhaps too subtle for foreigners, and McVeigh is too much like a neo-Nazi for anyone an Germay to feel comfortable making any comment at all.