Sun Is Shining
16 Aug 2001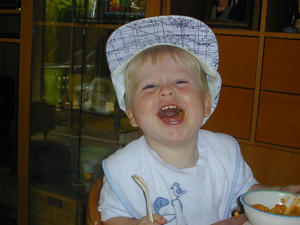 Some happy meal pictures from today.
With the help of the doctor's magic eye drops, my vision isn't quite so cloudy today.
I've reserved some webspace under the domain papascott.de. I'm not quite sure what I'll do with it yet. I'm contemplating splitting PapaScott into two sites, one for family stuff and Christopher pictures, the other for tech/news/expatriate/politics/other kind of stuff that (I assume) are not of so much interest to the Christopher Ryan fans.
For now at https://www.papascott.de I'm trying out an installation of Post Nuke (a variant of PHP Nuke), the PHP/SQL web system also used by Philly Future. It seems to be working fine, but it will need quite a bit of customizing if I decide to keep using it.