Hot and Sticky
24 Aug 2001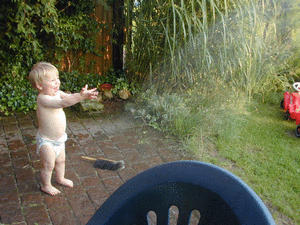 This picture is not new, but it's become one of our favorites. Mama ordered mouse pads with this picture for us, so now all day at work I can watch Christopher try to catch the rain.
The Telekom is now claiming that DSL is available on our street. A couple weeks ago their datbase was still saying beginning of November. I'm not sure, though, where the "Central Office" for our exchange is located... if it is in the middle of Jesteburg, we might be too far away. But I re-ordered the beginning of this week, and they haven't sent a rejection yet. Or I can be like Cringely and roll my own DSL.
Andrea has the last of her last written exams out the way, and is now relaxing over the weekend with her folks. Hey, if you happen to be in Bremen tomorrow, we might run into each other...