We're In This Together
13 Sep 2001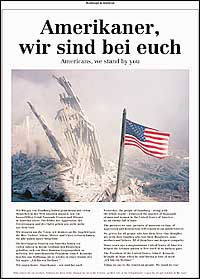 Hamburger Abendblatt: Amerikaner, wir sind bei euch! "Yesterday, the people of Hamburg along with the whole world witnessed the murder of thousands of men and women in the United States of America by an enemy full of hate. The pictures we saw, pictures of innocent victims, of aggression and destruction,will remain in our minds forever. We grieve for all people who lost their lives. Our thoughts are with their families who lost their daughters, sons, mothers and fathers. All of them have our deepest sympathy. Many years ago a magnanimous United States of America helped the German nation to free itself of its darkest past. The President of the United States, John F. Kennedy, brought us hope when he said during a time of need: Ich bin ein Berliner. Today we say to the American people: We stand by you!" This message took up the entire back page of today's issue. Readers were asked to hang it as a poster in windows, shop windows and cars as a sign of grief and support for the US.
Süddeutsche: Heute sind wir alle Amerikaner.
FAZ: Germans March, Mourn After Terror Attacks "Today we are all Americans," said Peter Struck, the parliamentary group leader of the Social Democrats.
German President Rau: "We Germans, especially in Berlin, have so much for which to thank America."
One trail of the hijackers leads to Hamburg. The police in Hamburg announced this morning that a man has been arrested (apparently an airport employee).
CNN: German police hold two over attacks. Spieel and Focus are reporting that police are investigating a ring of Islamic fundamentalists in Hamburg, to which 3 of the hijackers may have belonged.
BBC: "Federal prosecutors... are investigating what they describe as Hamburg-based terrorist network." CNN now also mentions a "terrorist cell" in Hamburg.
The apartments being investigated are in the Harburg district, just a few miles from where we live. We drive through Harburg every day to get to work.