Old Elbtunnel To Be Closed?
09 Jun 2002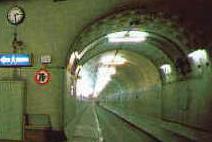 According to Friday's Hamburger Abendblatt, the city is considering closing traffic to the old St. Pauli Elbtunnel (in German, but mostly pictures). Not to be confused with the Autobahn Elbtunnel, the toll tunnel runs 0,426 km and connects the Landungsbrücken with the Blohm & Voss shipyard on the island of Steinwerder. The tunnel was built in 1911 and is an engineering marvel even today. Elevators at each side lower vehicles into the narrow tunnel. Howver, traffic is down 50% since 1995. and tolls cover only a fraction of the cost of personnel (as the elevators are not automated) and maintenance.
The tunnel is a tourist landmark, and we make sure we show it to our visitors. On weekends the tunnel is often closed for cultural event. like art shows, film festivals and even a marathon (48 laps). If you remember the movie The Odessa File with Jon Voight, the tunnel chase scene was filmed there.