Mac in Mac
27 Aug 2005

On vacation I bought an iPod Shuffle. I couldn't plug it into my old PowerBook, so I had to get a Mac Mini (1.42 GHz / Combo Drive).
Seriously 'santana' (as in Johan) will be a nice companion to the 500 MHz PowerBook 'moneyball'. It has some amenities that moneyball lacks, and is small enough to move around the house if I want to use it upstairs. Managing music will be easier with a single machine for both Slimserver and iTunes (syncing an iPod via 802.11b is a pain). And thanks to OSXvnc I don't even have to sit in front of santana to use it.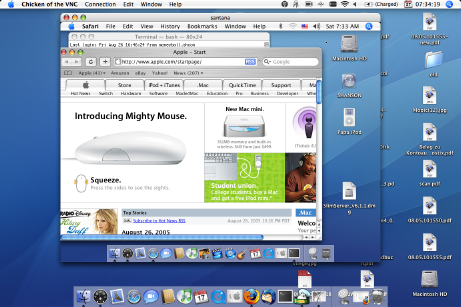 Setting up santana was pretty boring. Just plug in a mouse and keyboard (PC keyboard works just fine) and it works.