Happy Flaming Advent
04 Dec 2005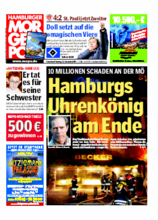 I've ranted before about how the fascination with fire in Germany is downright dangerous, now in Hamburg we have a concrete example:
She forgot to blow out the candle on the Advent wreath. At 8 pm the last employee left the Uhren-Becker jeweler on Ida-Ehre-Platz - 90 minutes later the shop was in flames. It took hours for fire fighters to get through the iron gate and bullet-proof glass protecting the shop and to bring the fire under control. Damage is in the millions.
It's unclear whether insurance will cover the loss. A neighbor of ours works for Becker, he'll be busy the next few weeks tallying the damage.