Camping
02 Jun 2006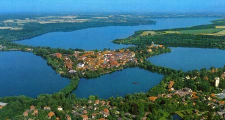 We're taking Christopher for his first camping trip this weekend. We're heading to Ratzeburg and meeting up with his uncles and cousins for the Pentecost (or is it Whitsun) holiday weekend.
We haven't been camping for a few years, so we've been hectically gathering supplies and wondering what we're missing. I'm sure we'll realize we've forgotten something essential once we are there. That's part of of the fun, and it's not like we're in the wilderness. The shops are open all day Saturday.
Just to complicate matters, MamaMaus comes home late from a business meeting tonight, so Christopher and I are packing everything into the Lupo this afternoon, and Mama will be joining us tomorrow in the A8 (did I mention she's now driving Audi after over a decade of BMW?).
Christopher is very excited. We're just hoping the weather will turn relatively dry.