Male Bonding
23 Oct 2006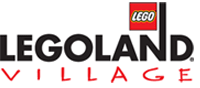 Christopher and I returned from our long weekend at Legoland Denmark last night. I hear the weather here in Lower Saxony was good, but up in Denmark it rained cats and dogs. Over the 3 days we had exactly 90 minutes of sun. Good thing we decided against the campground and went for the hostel at Legoland Village, so we were dry and comfortable (and to Christopher's delight, they had PlayStations).
It must have been school vacation in Denmark as the park was full of Danes. They were well prepared for the weather, since all the kids seemed to be wearing slickers and rubber boots. However, it was noticeable in a few places that the end of the season was drawing near. The Lego Shop had only close-out specials (and no Star Wars kits at all, much to Christopher's disappointment), and the Mindstorms Workshop was closed for renovation. Otherwise we had a great time. We'll be back next year... the Lego traffic school starts at age 7, and Christopher wants his driver's license!
Mama had constant rain for her conference in Lisbon as well. We all returned home late Sunday evening, and lo and behold, today it has rained the whole day here. We're unsure whether it's Portuguese rain that followed her home, or Danish rain that followed us. In either case, it's wet.