Bring Her Back!
09 May 2007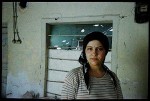 When someone as fervent as Jörg Kantel announces he is about to renounce his political party, it's worth the time to read his reasons (English translation is mine):
In early March Berlin's Interior Senator Ehrhart Körting (SPD) allowed a young women to be deported to Turkey who is not Turkish and does not speak Turkish. Nasima El-Zein grew up in Berlin, graduated from Realschule, helped foreign schoolchildren as a volunteer in the problem neighborhood of Neukölln, helped them with math and German. Who came up with the idea to deport this woman to a land where a violent father awaits to lock her up and send her to a forced marriage? Today the Berliner Zeitung wrote that the Kurdish woman has been pressured by the Turkish police, and threatened with violence. I think not only the behavior of the Turkish authorities, but also that of Berlin's Interior Senator, to be a scandal. One can only suspect that because the police and the authorities are unable to handle a few wild Turkish-Lebanese families in Neukölln and Rudow, the so-called "bouncer mafia", that they are making an example of this young woman, making a scapegoat of someone who is integrated and cannot defend herself, deporting her to Turkey simply to quiet public opinion.

These actions from Hr. Körting are not only reprehensible, but also violate the principles of his party, the SPD, and human rights... As a party member, I will formally request the expulsion of Hr. Körting from the party. And when the young woman has not returned to Berlin by the end of May 2007, I will take my party book, which documents over 35 years of membership in the SPD, and publicly burn it (i.e. a video will be posted here) and I will urge my fellow party members to do the same.
Jörg himself lives in Neukölln, so I'm sure he knows what he's talking about. I've heard of some wild deportation cases in Germany, but this seems to rank with the wildest of them.