Uncle Tom in the 21st Century
05 Jun 2008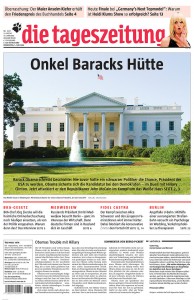 So is the Tageszeitung's "Uncle Barack's Cabin" headline today stupidly racist, or just racist? "Uncle Tom" has been an insult for, what, a century and a half now?
Spiegel Online International: German Newspaper Slammed for Racist Cover
Davos Newbies: Tin Ears
Davids Medienkritik: Die Tageszeitung: "Uncle Barack's Cabin"
Update: An opposing view (in German) from Markus Tripp (who I follow on Twitter), who links to the discussion at tazblog, the newspaper's own blog.