Last Minute Advent Calendar
07 Dec 2008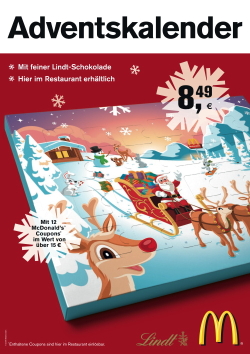 The season for advent calendars is going fast, and unfortunately we ordered a few too many "McDonald's Adventskalender" (with Lindt chocolate and exclusive coupons good at McDonald's in Dibbersen) to sell at the restaurant. We've started selling two for the price of one... i.e. two for 8.49€.
The second Sunday in Advent is of course the perfect time to buy an advent calendar. You can open the first 7 doors all at once, and can still enjoy a daily treat for more than two weeks until Christmas. You get both instant gratification and daily satisfaction. What more could you ask for?
For PapaScott readers I have an exclusive deal. For a limited time, you can buy calenders from me directly and I will donate the entire purchase price to McDonald's Kinderhilfe (the German Ronald McDonald Houses). Postage costs within Germany are 3€ for 2 or 4 calendars, 5€ for 6 to 10 calendars, or you can pick them up directly. Payment by bank transfer, PayPal, or cash upon pickup.
2 calendars: 8.49 plus 3.00 = 11.49€
4 calendars: 16.98 plus 3.00 = 19.98€
6 calendars: 25.47 plus 5.00 = 30.47€
10 calendars: 42.45 plus 5.00 = 47.45€
Remember, the longer you wait, the more chocolate you have to eat the first day. So order today! This piece of history can be yours to keep (at least as long as the chocolate lasts)! Order today, via the comments, Twitter (@papascott) or mail papascott@gmail.com. Supplies are limited!