Grünkohl Turkey Day
26 Nov 2009
We've never gotten in the habit of celebrating American Thanksgiving here in Germany, but as I mentioned on Twitter today, by coincidence we are going out for a traditional meal this Thanksgiving evening. The local Wirtschaftsrunde (chamber of commerce, sort of) is holding their annual Grünkohl dinner. I've never had it, and I suspect that Frauke is taking me along to the dinner not just to keep her company, but so that we can split one portion and she only has to eat half as much.
According to the Internets, Grünkohl translates as "curly kale" and is a north German dish often served with Pinkel (small sausages) (no, not pinkeln, that's something else). Judging from this picture from Wikipedia, the vegetable content of the meal is actually quite small...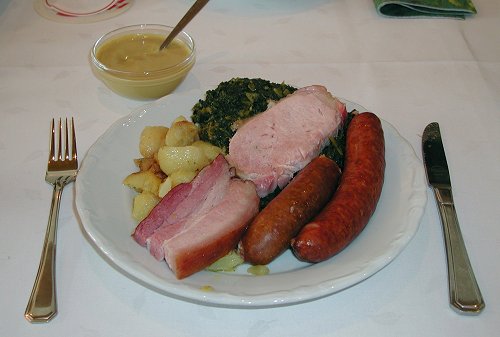 Wish us luck, or at least Guten Appetit!
Update after the fact: The Grünkohl was in fact very tasty! Details in the comments below.