Big Seal
22 May 2010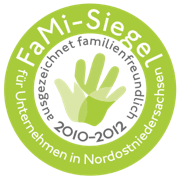 Last week the organizers of the FaMi-Siegel held a press conference to present the familiy-friendly employers they honored. We've been making extensive use of the seal in printed and email correspondence, and had stickers printed for the restaurant in Dibbersen and all our company cars.
The stickers are only 15 cm in diameter, and Frauke wanted something that would stand out for the press photo. We thought about an A4 laser printout, but then asked our printer for advice. Usually he find less expensive alternatives for us, but this time he suggested an upgrade. "A4 is way too small! You want 50 cm diameter! On a board!"
The Hamburger Abendblatt was impressed.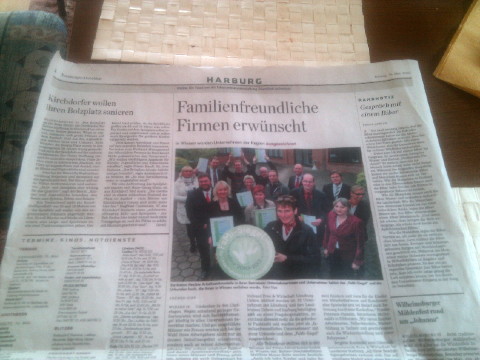 That's Frauke in the front row with her big seal on page 2 of the Harburg section. The photo is online at abendblatt.de. Everyone can see the photo, but only subscribers can read the article.