Off The Rack
02 Oct 2011
Through soft living and not sticking to my gym schedule, I'm carrying 5 kilos more than 3 years ago and the suit I bought then is too tight around the belly. And the suit before that hangs like a tent. Why is fashion so unforgiving? But we have a gala event in Berlin to attend, and Christopher also needs the appropriate attire, so yesterday we were off to Hamburg to visit Policke.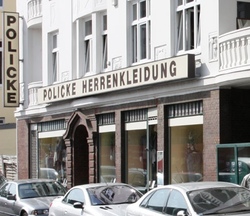 I blogged about Policke 11 years ago when I got the suit before that. It hasn't changed much since then…
Mama was convinced that I needed a new suit for her company Christmas party next weekend (her first formal appearance after maternity leave, although she officially starts on January 2). My main criteria in choosing a profession was to avoid wearing suits. I hate buying clothes, but it's even worse to discuss or even argue about buying clothes, so I kept my mouth shut (well, nearly shut) and went along with Mama and Christopher to Hamburg early on Saturday.
We went to Policke, an old-fashioned men's clothier in Hamburg… not chic downtown Hamburg, but the nitty, gritty inner-city neighborhood of St. Georg, located across from a Turkish bank and some porno shops, between a mosque[*] and a Good Templar's Club. The shop looks like it hasn't been remodeled since the 1920s, and maybe the staff hasn't changed since then either. There's hardly room to move… the tiny rooms are stuffed with suits.
It's impossible to browse. You are met at the door by the chief salesman, who measures your exact size by eye alone, and are sent to the appropriate room. I told the salesman there I need a dark colored suit for a Christmas party, he picked two out that both fit perfectly and met Mama's approval. I picked one, and we were out in 15 minutes, paying a least a third less than we would have downtown, and were home before the crowds arrived in the city.
This time the service was even quicker. The first suit tried on fit and was right, so I was done in 10 minutes, and I paid half of what I expected.. Same thing for Christopher: 10 minutes in and out, much cheaper than we expected.
Even more amazing… before we shopped, Christopher insisted he didn't need a suit and didn't want to go to any gala in any case. Today he spent 45 minutes trying his new suit on and admiring the look.
[*]At first I was afraid the mosque was the infamous Al-Quds mosque where the 9/11 plotters met, but that was around the corner on Steindamm, a couple of blocks away. The mosque on the same street as Policke is the Centrum Mosque, and tomorrow they happen to be holding an open house.