They are all here for your anniversary, Miss Sophie
06 Sep 2012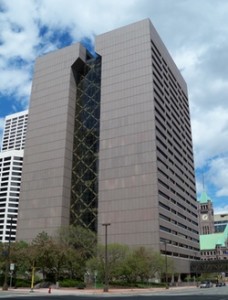 Hennepin County Government Center - The Scene of the Crime
Twenty-nine years ago today was the Tuesday after Labor Day when, as Bruce Springsteen put it, "the judge put it all to rest".
These days we can only joke about how long it has been. We can still quote the English German (whatever) TV classic "Dinner for One" to one another: "You look younger than ever, love! Younger than ever!" Of course, the line may wear out someday. If someday this blog ceases to be updated and you hear about a particularly gory family drama* from northern Germany, you'll know I tried the line once too often.
*Family drama (Familiendrama) is one of those phrases that in German means something completely different than in English. For us it might mean a TV show suitable to watch with your kids, or perhaps the "discussion" that ensues when a teenaged daughter tells her parents that she is pregnant. In German it refers to a murder (often a murder/suicide) within a family.