Antalya and London
08 Oct 2012
Despite my attempt to start a travel blog a couple of months ago, we don't actually get out and about that much. Owning a business and having a school-aged child just cramps our style somehow. So it's somewhat unusual that this month, we have not just one, but two (count 'em. two!) foreign trips planned.

The first is this week and actually a business trip. We all (we're taking number one son out of school for 3 days) fly to Antalya, Turkey, for the annual fall franchisee meeting at some luxury hotel built for Russian oligarchs. It will be warmer than home, though, and we are extending our stay by a night so we have all day Saturday to ourselves before flying back just in time for school and work on Monday.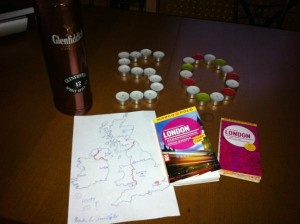 The second half of October our son as fall break from school, and I'll be cashing in my birthday present from my family, a 5 night trip to London. Of course, "birthday present" means 1) the entire family comes along, and 2) they only come up with the idea and I get to do all the planning myself. Despite having lived in Europe for over 20 years, we've never been to London so it will be all new to us. All I know about London is that it's wonderful and expensive, so we'll be staying in Greenwich and be taking the train a lot to see the sights.
After that we'll be all travelled out for while.